Some Decor Ideas for your Bathroom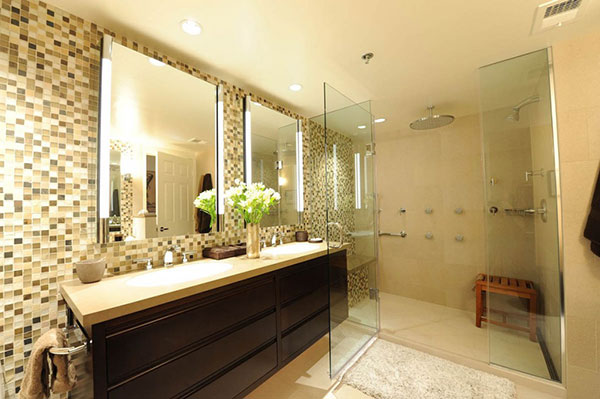 It is pretty easy to think of your bathroom as just another place to shower and get cleaned up. However, there is no reason why a bathroom can't be a sanctuary for you and visitors to feel more comfortable. There are lots of easy and inexpensive ways to spruce up your bathroom. Try some of these ideas.
Artwork
Artwork is a great way to show some of your personality, whether it is humorous or chic. It isn't hard to find pictures to spruce up the bathroom. If you have the room, you can even make a small gallery wall that will showcase your style. Make sure your artwork framed and under glass to protect from the steam that will come from your shower.
Greenery
An easy way to spruce up a bathroom is to get some green in there. A small, easy to tend plant is a great way to bring some life into the space. A windowsill is a good place to put a plant and gives it some light. If that doesn't work, you can put a plant on an open shelf or even hang one in a less busy corner.
Candles
The scent in bathrooms isn't always the greatest. This is where candles can come in handy. You can use a gently scented candle not only as an odor reducer but also as a way to show some style in the bathroom. They especially add some style to a bathtub.
Hand Soap Dispenser
When it comes to guest bathrooms, you want to always have hand soaps available. While hand soaps work, liquid soap seems to be a better and more sanitary option. Spruce up the liquid soap you have by putting it in a stylish dispenser that matches the bathroom décor and put it on a dish to confine the leftover mess.
Baskets
Baskets are an easy way to add some storage to your bathroom. When guests use the bathroom, it is a great place to put extra towels and toilet paper. They also add a stylish touch to the bathroom that can easily mix in or blend with rest of the decor.
Storage Containers
Try to use different kinds of ways to store things you need in a bathroom. Glass jars are an easy and inexpensive way to store things like cotton balls or Q-Tips. An old cake holder can be used to store several items on a counter.
Hand towels
Hand towels can be an easy way to add some style and a pop of color in a bathroom with mostly muted colors. You can even give them some personality by getting them monogrammed with something personal or a fun quote.
Mirrors
Don't forget that mirrors are a big part of a bathroom. Add a border to a mirror to add some flavor or put up a favorite motivational quote to get you going in the morning.
Bathrooms don't have to be boring. They can be a great part of the house with just a little work and creativity.
http://www.hgtv.com/design-blog/design/10-pieces-of-decor-every-bathroom-needs