Tips for Staging Your Home to Sell March 27, 2018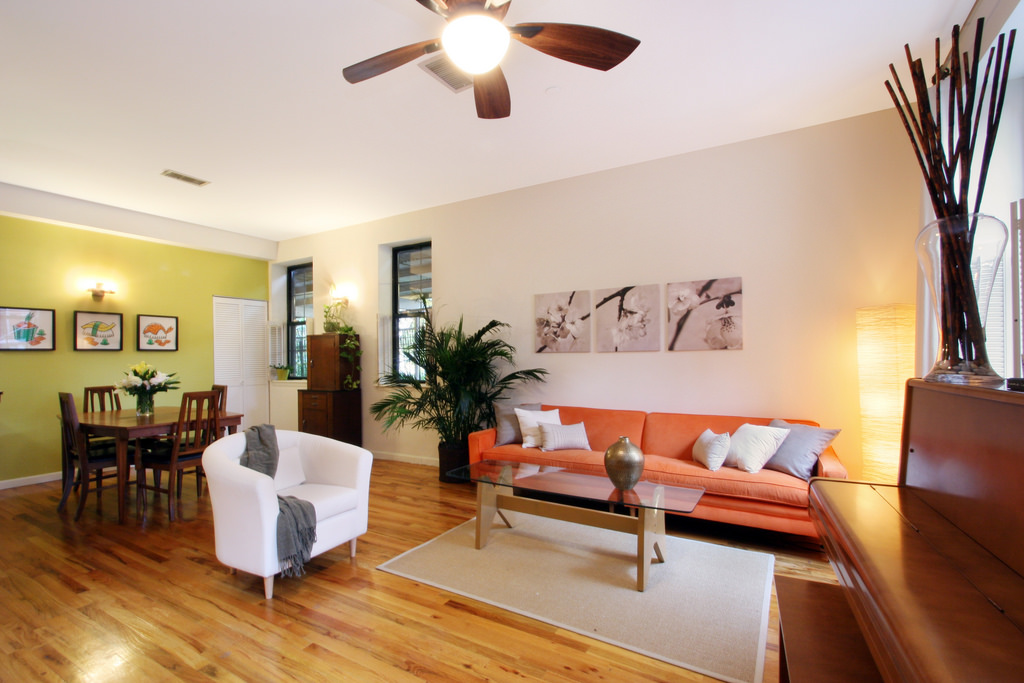 Congratulations! You're finally taking that next big step and excited to move into a new phase of your life by selling your home.
But what if your home isn't getting as much attention or potential buyers as you'd hoped?
Sometimes the biggest problem with a home not selling is staring at you right in the face!
Of course, not everybody has budget or time to do major renovations to a home they want to sell right away.
So how do you get your home from sitting on the market sold at a reasonable price and fast?
The key is understanding how your buyer's minds work and how to make your home more appealing to them by following these five steps.
(1) Clearing Out the Clutter
Have you ever seen a home magazine with pictures of beautiful spaces filled with clothes on the floor and stacks of papers everywhere?
We'll say no to that one ;)
Just like a reader combing through the latest home magazine, when buyers are looking for a house, the last thing they want to see is your "dirty laundry" being left out to dry.
Why is it so important that you clean and declutter your entire home?
And I'm not just talking about putting stuff away. I'm talking about really looking at your rooms and getting rid of anything that makes it look "crowded."
Yes, this even applies to furniture!
If you're having a hard time maneuvering around a room, chances are your buyers will too.
Instead of enjoying your beautiful kitchen, your buyers will start to think back to that cramped-looking living room they just walked through and start analyzing how they may find the same result with their furnishings.
My rule of thumb once it comes to staging? If your furniture cannot be spaced out at an arm's length away from any other object in a grouping, its time to kick that sucker out and put it in a storage unit
(2) Highlight the Good and Camouflage the Bad
No matter how much we try, sometimes our budget doesn't allow us to fix things that may be glaring in our faces.
And trust me, if you can see it, your buyers will spot it before they have a second to get a good look at your home.
So how do we fix this problem? By highlighting the good and camouflaging the bad!
Now let me clarify, in no way am I saying to hide evidence of damage.
Instead, you want to draw the eye away from the ugly and highlight all of the stunning features in your home! For example...
Do you have a naked window that has no millwork? Flank it with light sheers to add a touch of elegance while also camouflaging the sides.
Or maybe your fireplace has seen better days. Hang an oversized art piece above it to draw the eye upward and detract from the sub-par fireplace below.
What if your sink feels a little dated? Add some flowers next to it, a cute hand soap dispenser and polish it up like nobody's business (remove that nasty sponge while you're at it too!).
And if your lucky enough to have a gorgeous view? Open up your windows, pull those drapes to the side and let them take center stage!
Can you tell my theater background is coming out ;)
(3) New Paint Will do Wonders
Sometimes we get a little too adventurous with our homes and make paint color decisions we may regret in the long run.
Like it or not, a fresh coat of paint on the walls goes a long way when updating a home to sell.
When you paint your walls, it gives your buyers one less thing on their list of to-dos for the next five years.
Go with a neutral, like light gray (a hot trend right now!) or white to appeal to a broader audience.
I will exercise a word of caution though.
Because you are painting with the intent to sell your home, I urge you to consider hiring a professional to do this.
Like I mentioned earlier, buyers notice EVERYTHING and should your paint job show the tiniest mistake, you may as well have lowered the value in your home and cause the buyers to do it all over again.
Always remember, inconveniencing your buyers is NOT the way to go if you're trying to sell your home!
(4) Pay Attention to Your Curb Appeal
Not paying attention to your curb appeal is where you will lose many hopeful sellers fast!
Whether the client sees your house in person or online, the first thing they will notice is how the house looks from the street.
If it doesn't scream "come on in!" and instead makes you think it's abandoned, then you've already lost your opportunity.
Architecturally speaking, there isn't much we can do to change the appearance of the home without forking out a pretty penny.
But we can take the advice I said earlier and freshen it up with new paint!
Want some more options to boost your homes curb appeal really? Here are some other things you can do to take your homes exterior appearance to the next level!
Keep your yard clean and shrubbery trimmed back.

Replace your standard outdoor light sconces with something a little more modern.

Give your patio furniture a good wipe down and replace dingy seat cushions as needed.

And last but not least, don't forget to replace your old doormat!
(5) Don't Forget to Get Rid of the "You" in Your Home
Losing your personality from home may be a little hard to hear for some but getting rid of personal artifacts when putting your home on the market is the best thing you can do.
While some people would love to see pictures of your family and learn more about you and your life story, they would much rather see what they can do in the home.
Buyers want to see how they can make this their future forever home. Not if they can live in yours.
So take down that cute photo of your niece splashing in the kiddie pool or your mounted game from your last hunting trip and be excited to put it in your next new home!
Are there any tips here you can't wait to get started on? Have you found yourself thinking like the buyers I mentioned when you had gone house hunting? I'd love to hear your thoughts!
Not quite sure if these tips are enough to sell your home? If you want a professional to help your home sell for top dollar, I'm here to help, contact me on my website.